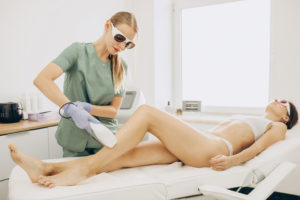 Hair today, gone tomorrow! What's your go-to for getting rid of unwanted hair?  Is it waxing, threading or shaving? Have you thought about replacing those options with laser hair removal? It's the only option that provides a more permanent solution.
If you're considering getting laser hair removal, it's best to do a bit of research first so you'll know what to expect and so you can better prepare for the best results.
Keep reading to learn more about how to make the most out of laser hair removal.
What is Laser Hair Removal?
Laser hair removal is the process of eliminating unwanted hair on your face or body with the use of a concentrated beam of light or a laser. The laser emits light, which is absorbed by the pigment of the hair. The resulting light energy conversion to heat then destroys the hair follicles.
What to Expect from Your Laser Hair Removal Treatment
Here are some of the things that you can do to best prepare for your laser hair removal session:
Avoid plucking or tweezing

Limit UV exposure a week before your treatment because you won't be allowed to undergo laser if your skin has an active tan.

Shave the targeted area the day of or a day before your appointment. A clean shave helps the laser find your hair follicles faster.
During the treatment, the settings for the laser are adjusted based on your skin and hair color so the laser can deliver waves that will properly target and destroy the hair follicles. 
Each pass will feel like a rubber band snapping against your skin. Our device has an extremely cold tip around the laser to cool the skin as the treatment is being provided. 
You can do the following after treatment:
Apply cool compresses or icepack if the treated areas are red or uncomfortable

Prevent UV exposure and apply sunscreen with SPF 30.

Avoid perfume, deodorant, extremely hot showers and saunas for a few days post treatment.
3 Tips to Make the Most of Your Laser Hair Removal
Exfoliate.

You should exfoliate the area two to three times a week before your appointment. Removing the dead skin cells will help the machine detect the hair follicles faster.
Moisturize.

Applying lotion or moisturizer can nourish and moisturize your skin to ensure a more comfortable laser hair removal session and will also help your skin recover more quickly.
Multiple treatments are necessary for best results.

Six-Ten treatments are typically necessary to see the maximum benefits of hair removal. Most patients notice significant hair reduction after eight sessions. Follow-ups are also helpful to treat regrowth and maintain the results.
Want to experience smooth, hair-free skin all year- round? Try laser hair removal. Plucking, shaving, and other traditional methods can be painful and results don't last nearly as long! 
At Metro Medspa, our expert providers have helped countless clients in St. Louis, MO, get the best possible results with laser hair removal. Call now and schedule an appointment with us!