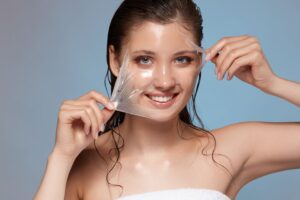 Aging, exposure to UV rays, and other environmental pollutants, along with the buildup of dead skin cells can cause a wide range of skin concerns, such as fine lines and wrinkles, acne and other scars, and uneven skin tone and texture. 
Although a lot of skincare lines claim to treat such skin concerns, they can take ages to produce any desirable results. 
So, if you're looking for a non-invasive yet effective treatment that can help you achieve an even toned and textured, fresher and younger-looking skin in little to no time, it's time you give chemical peels a try.

Read on to know more. 
What Is A Chemical Peel?
A chemical peel is a skin resurfacing treatment that involves the application of a chemical solution to remove the top layer of your skin to reveal smoother, radiant, and younger-looking skin from within. 
The treatment is safe for all skin types and skin tones and can be performed on your face, back of the hands, neck, and feet as well. 
Types Of Chemical Peels 
Typically, chemical peels are divided into 3 types depending on the strength of the solutions and their ability to penetrate into your skin.
Light Chemical Peel

– AKA superficial peel, it involves the use of mild acids such as lactic acid and glycolic acid to reduce acne breakouts, clear out your clogged pores, and provide gentle exfoliation. It can also be an additional step for your facial treatments to make your skin look and feel softer and smoother. 

Medium Chemical Peel.

This uses relatively more concentrated solutions of glycolic acid and trichloroacetic acid (TCA) to penetrate deeper into your skin. It can help reduce the appearance of mild to moderate fine lines and wrinkles, hyperpigmentation, sun damage, while evening out your skin texture.

Deep Chemical Peel

.

It uses concentrated solutions of TCA and phenols to penetrate deep into your skin and to address stubborn signs of aging, such as more pronounced fine lines and wrinkles, acne and other scars, and severe sun damage. Deep chemical peels can produce remarkable results with just one treatment session. 
What To Expect From The Procedure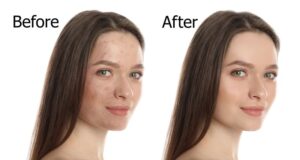 Although the treatment is simple and doesn't require any preparation beforehand, here are a few things that can help you achieve maximum results safely:
Make sure there are no active infections, lesions, or sores at the treatment site.

Avoid direct sun exposure for at least a week before the treatment.

Avoid applying any skincare or makeup products before you go in for your appointment. 
Once we've analyzed your skin type and determined the right peel type for your skin, we will begin by cleansing and prepping the area of concern. 
The next step involves the application of the peeling solution using sterilized applicators. 
The treatment is virtually painless, however we might choose to apply a topical anesthetic for a deep chemical peel to avoid any discomfort. 
It is completely normal to experience a slight tingling sensation throughout the procedure and this usually subsides soon after the procedure is complete. 
It is important to remember that chemical peel treatments can increase the sensitivity of your skin. Therefore, make sure to protect your skin from direct sun exposure and if unavoidable, apply a good sunscreen with a minimum of SPF 30. 
When performed by a highly trained and experienced provider, a chemical peel treatment can help you achieve smoother, fresher, radiant and younger-looking skin safely. 
So, if you're looking to address specific skin concerns or to enhance the appearance of your skin, chemical peels can be just the right option for you. 
At Metro MedSpa, St. Louis, MO, our expert team of well-trained and experienced professionals can help create a customized chemical peel treatment best suited for your skin type, tone and concerns. So, rest assured you'll get nothing but the best possible results. 
Book a consultation now.