Kate here, beauty boss and owner of Metro Medspa in St. Louis, MO.  As a business owner, wife and mama of 5 kids, free time feels like a thing of the past.  Sometimes the thought of scheduled self-care feels daunting, but it's obviously so necessary. Other busy, working moms always ask me this question, "What treatment is going to be the most universally beneficial for my skin?" While I've curated our entire menu of services and love everything we do here at Metro Medspa, I think I've landed on Microneedling as my final answer to that specific question.
Lets chat about why Microneedling…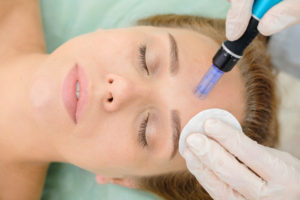 Microneedling is safe for all skin types
Stimulates new collagen to diminish fine-lines and wrinkles
Improves melasma, hyperpigmentation and sun spots
Helps reduce acne-scarring and stretch marks
We can add on PRP, exosomes or hydroquinone to boost the treatment and enhance results
One device that can address so many concerns sounds like magic right? I'll walk you through why microneedling isn't too good to be true.
Microneedling is safe for all skin types because it's not a light-based procedure, nor does it involve harsh chemicals or techniques that instigate significant inflammation of the skin. Microneedling is basically what it sounds like, a procedure that uses tiny needles to create micro-injuries in the skin, in turn producing new collagen and elastin. Collagen is a buzz word in the beauty world these days, but I think it's important to understand collagen and the impact of new collagen stimulation.  Collagen is a protein that's found in the skin. It provides strength, elasticity and keeps our skin looking supple, youthful, and healthy. Unfortunately, as we age, collagen production naturally decreases which eventually leads to wrinkled, sagging skin. Microneedling keeps our collagen excited, thus minimizing fine lines and sagging skin.
Lucky for us, anti-aging isn't the only category focused on collagen induction.  The minimally invasive micro injuries created from microneedling also stimulate new collagen and blood flow to combat acne scars. The same concept of creating fresh collagen addresses stretch marks and sun damage as well. 
If you're like me, you're thinking "can I microneedle my entire face and body then?" The answer is YES! We use microneedling to target stretch marks, scars and pigmentation off of the face.
Regardless of where you're microneedling your face or body, you can expect to be red (kind of looks like a sunburn) the day of the treatment and possibly the following day. We'll send you home wearing Hydrating B5 gel (a clean hydrating serum that most people purchase post-treatment) and sunscreen. We recommend no make-up for 24 hours and no products with active ingredients for 72 hours after your procedure.  My favorite thing about micro-needling is the textural changes in my skin and the glow I get about a week after I have the treatment. And here's another bonus, results continue to get better and become more significant as newly formed collagen continues to mature. We recommend a series of 3 treatments 4-6 weeks apart to get the best results.
Most of our clients love microneedling so much, they join a Metro-ship or purchase one of our mix-n-match packages!