Fed up with working out and dieting yet seeing no results? Are you sick of all the gimmicks and scams from products and services that promise to burn fat like magic but don't deliver?
CoolSculpting Elite could be just the treatment for you. It's an excellent option for removing stubborn fat pockets and helping you achieve longer-lasting results.
Keep reading to learn more about CoolSculpting Elite.
What Is CoolSculpting Elite?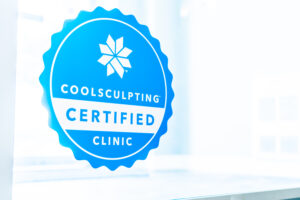 CoolSculpting is a non-invasive procedure that uses cryolipolysis or fat freezing, to target stubborn fat cells from specific areas of the body. It is a body contouring procedure that reduces unwanted fat pockets with no downtime. 
It is also FDA-approved, making CoolSculpting generally safe and effective.
CoolSculpting is typically used to reduce stubborn fat in the following areas:
Abdomen

Thighs

Arms

Flanks or love handles

Back fat

Bra fat

Buttock rolls or banana rolls

Under the chin
Keep in mind that CoolSculpting is not a weight loss treatment and is not intended for people who are significantly overweight. Instead, it is designed to help people who are already at or near their ideal weight but have stubborn pockets of fat that they are unable to eliminate through diet and exercise alone.
What to Expect During CoolSculpting?
The treatment usually lasts for 35 minutes to an hour, depending on the size and number of treatment areas.
So here's what to expect during treatment:
Your provider will mark out the specific regions you want to target.

A protective gel pad will be applied to your skin.

The applicator will use a vacuum to suction the skin and fat into a cooling panel, which lowers the temperature of the fat cells in the area to -10ºC.

The cooling process causes the fat cells to crystallize and die, enabling the body to naturally excrete these dead fat cells.
What to Expect After CoolSculpting?
CoolSculpting is generally considered safe, with very few side effects. Some patients may experience redness, swelling, or numbness in the treated area after the procedure, but these side effects typically subside within a few days of the treatment. 
Do note that the results are not immediate and can take several weeks or months to appear. Most people will need multiple treatments to achieve their desired results. The exact number of treatments needed will depend on the individual's goals, as well as the size and location of the treatment area.
More About CoolSculpting
Keep in mind that CoolSculpting is not a substitute for a healthy lifestyle. To maintain the optimal results, it is vital to practice a healthy diet and regular exercise alongside and after your treatments.
Here at Metro MedSpa in St. Louis, MO, we have helped countless patients get rid of stubborn fat and help them achieve the body they want and deserve in the safest way possible.
Call now and schedule your appointment with us today!