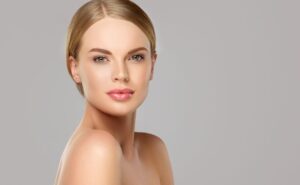 Aging, along with diminishing collagen and elastin production, can cause certain cellular changes in your skin, resulting in the loss of facial volume and elasticity and the formation of common signs of aging, such as:
Fine lines and wrinkles

Deep static wrinkles

Sunken cheeks

Under eye hollows

Uneven facial contours
So, if you're looking for a non-surgical yet effective aesthetic treatment that can address such signs of aging by restoring volume loss, dermal fillers can be a great option. 
Read on to know more. 
What Are Dermal Fillers?
Dermal fillers are soft-gel injectables that are placed right under the skin to restore age-related volume loss, making your skin appear fuller, plumper and younger-looking. 
The most commonly used fillers consist of hyaluronic acid – a naturally occurring compound that adds elasticity, hydration and volume to your skin. Some examples of HA fillers include: Juvederm, Restylane, Belotero, and the RHA collection of fillers. 

What Dermal Fillers Can Do
Dermal fillers can address a wide range of concerns when it comes to aging skin. They can help:
Soften the look of deep facial wrinkles and creases

Reduce the appearance of pitted acne scars

Fill in the under-eye hollows

Enhance facial contours

Add volume to sunken cheeks

Make your lips fuller and plumper
Am I A Good Candidate For Dermal Fillers?
Anyone can get fillers as long as they're 18 years and older, but here are some other factors that can make you an ideal candidate:
You don't have active infections or other underlying health conditions at the treatment site.

You're looking for a non-surgical solution to get rid of deep static wrinkles and creases on your face. 
However, only a well-trained professional can help you determine whether dermal fillers are for you or not. 
Preparation For The Treatment
Dermal fillers do not require any extensive preparation, but there are some things you can do to better prepare for the treatment: 
Avoid taking any blood-thinning medications (with your physician's approval only) about a week before the treatment.

Refrain from smoking and drinking alcohol for a few days before the treatment as it can result in bruising and delayed healing.
During The Treatment
We usually begin by cleansing and prepping the area of concern/s. 
The next step is to inject the filler under your skin using a very fine needle or blunt tip cannula. Each injection takes just a few minutes and after each injection, we will gently massage the injection site to evenly distribute the filler. 
The entire treatment can take anywhere between 30 to 45 minutes depending on the area of concern and amount of filler to be injected. 
Although the procedure is virtually painless, we might choose to apply a topical numbing agent to reduce any discomfort. 
Aftercare For Dermal Fillers
Some people might experience mild swelling and bruising at the injection site, which usually subside within a day or two.
You can use a cold compress or an ice pack to minimize any swelling or discomfort after the procedure.
Make sure to avoid direct sun exposure, heavy workouts and alcohol as they increase the risk of post-treatment swelling at the injection sites. 
How Soon Can I See The Results?
The initial results of dermal fillers can be seen almost immediately after the treatment; however, the final results can be seen as soon as the swelling and redness goes down.
The longevity of dermal fillers can vary depending on the type of filler, the amount of filler injected as well as the treated area. Typically, fillers can last anywhere between 6 to 12 months. That's why you need to schedule followup sessions to keep your skin smooth, wrinkle-free, and younger-looking for a long time. 
However, only a certified and well-trained injector can help you achieve optimal results safely. For this reason, the expert injectors at Metro MedSpa, St. Louis, MO, perform every procedure meticulously. 
Book a consultation now and get one step closer to smoother, radiant and youthful skin.