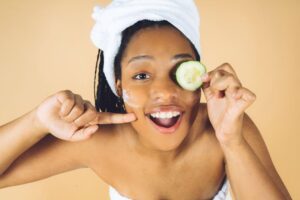 Did you know that aging can slow down your skin's natural shedding process? 
Not only does the natural aging process affect the tone, texture and elasticity of your skin, but the lack of proper cleansing, exfoliation, and too much sun exposure results in:
Pigmentation issues

Acne

Dry and flaky skin

Discoloration 
So, if you are searching for a treatment option that can effectively address such issues as well as make your skin appear and feel softer, brighter and fresher, dermaplaning could be a fit for you! 
What Is Dermaplaning?
Dermaplaning (aka face shaving) is a popular skin resurfacing treatment that uses a surgical grade scalpel to scrape off the top layer of dead skin cells and vellus hair (tiny hairs on your face aka 'peach fuzz'). 
Benefits Of Dermaplaning
Dermaplaning Benefits: 
Reduce the appearance of fine lines and wrinkles

Brighten and even out your skin tone 

Smooth the texture of your skin

Reduce acne breakouts as well as the appearance of acne scars 
How To Prepare For The Procedure
Dermaplaning is a non-invasive treatment that doesn't require any extensive preparation. However, it is best to refrain from any at-home exfoliation for at least a week before the treatment.
What Happens During The Procedure?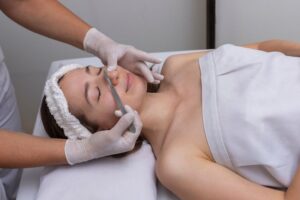 We will begin by cleansing and prepping your skin for the treatment. 
During the procedure, the provider will use one hand to slightly stretch your skin and use the other hand to scrape off the top layer of your skin using a sterilized scalpel.
The treatment is quick and can be completed in under 30 minutes. It's also virtually painless. 
Once the top layer is sloughed off, a healthy new layer is revealed, and it will look and feel smoother and softer, giving you a more radiant and youthful glow. 
Aftercare Tips For Dermaplaning
We might choose to apply a phyto corrective gel or a collagen-mask to nourish and replenish your skin from within and to enhance its natural radiance and glow. 
Avoid direct sun exposure as dermaplaning can increase the sensitivity of your skin temporarily. If you can't avoid going out in the sun, apply a good sunscreen with a minimum of SPF 50. 
The treatment doesn't require any downtime and you can resume your daily routine as soon as you leave the office. 
How Soon Can I See The Results?
The results of the dermaplaning treatment (i.e. fresher, more supple and glowing skin) can be seen almost immediately after the procedure. However, monthly dermaplane treatments are the best regimen to maintain results. 
In the right hands, dermaplaning can help address a wide range of skin concerns quite effectively. Unlike other skin resurfacing treatments, dermaplaning is safe for all skin types and skin tones. 
So, if you're looking for a quick, non-invasive yet effective treatment to make your skin appear and feel softer, smoother and more youthful, dermaplaning is just the right option for you. 
At Metro MedSpa, St. Louis, MO, our expert team performs every treatment with utmost care and consideration. So, rest assured you're in safe and capable hands. 
Book a consultation now.