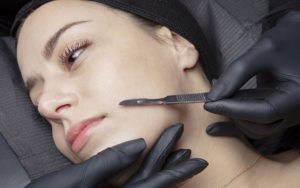 Once you start dermaplaning, you won't stop! In just 15 minutes, an exfoliating dermaplane treatment removes dead skin cells, allows better makeup application and product absorption! 
So let's talk about dermaplaning…
Dermaplaning is a skin rejuvenation treatment that uses a surgical blade to precisely and carefully remove dead skin cells and vellus hair or peach fuzz from your face. This procedure also helps even out skin tone and texture.
Dermaplaning is safe for any skin type. Although it sounds intense, dermaplaning is actually a very safe and effective way to make dull skin look smoother and more radiant – provided that it's done by an experienced and qualified professional, of course.
The Benefits of a Dermaplane Treatment
Here's what to expect when you try a dermaplane treatment:
Safe and effective for all skin types.

This treatment is suitable for all skin types, including those with extremely sensitive skin. It is also a good way to prep the skin for other in-office treatments, such as a chemical peel.
Improves the skin's ability to absorb active ingredients.

Dermaplaning removes the top layer of dead cells, allowing the skin to better absorb skincare products -thus boosting their effectiveness.
Makeup goes on more smoothly and evenly.

Dermaplaning immediately smoothes your skin by removing dead cells and peach fuzz, paving the way for the smoother application of makeup (and a more polished-looking result).
Helps prevent acne.

The treatment clears away pore-clogging dead skin cells AND improves how your skin absorbs anti-acne skincare products, thus helping to prevent or lessen breakouts.
Other benefits.

Dermaplaning is a good skin rejuvenation treatment because:
It can make the skin look smoother and more radiant by improving the appearance of wrinkles, acne scars, and fine lines.

The treatment takes between 15-20 min

No downtime required
More About Dermaplaning
First things first, dermaplaning does not make facial hair grow thicker. It is a common misconception that shaving and dermaplaning makes the hair grow back thicker and darker, but there is no truth to this at all. Your facial hair should grow back perfectly fine.
For best results, you may need to have a series of dermaplane treatments. A lot of patients get optimum results after 6 treatments, but many already see significant changes after just 2 to 3 treatments. Remember to consult with a skincare professional to get the best treatment plan.
Try Dermaplaning Today
You've probably just started seeing dermaplaning highlighted on social media platforms, but the treatment has been performed in aesthetics for years. The procedure removes dead skin cells and eliminates facial hair, providing a seamless canvas for makeup application and allowing for better skincare product absorption.
Dermaplaning should only be done by a licensed professional because, as it involves holding a scalpel close to the skin. If you're ready to try dermaplaning, schedule a  treatment with one of our aestheticians at Metro Medspa.