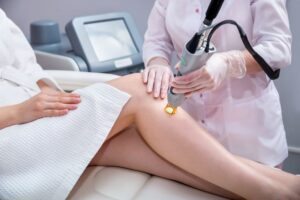 Using traditional hair removal methods such as waxing or shaving can be tedious, inconvenient, and costly.
So, if you're looking for an effective solution that can help you remove unwanted hair by reducing the amount of regrowth by up to 70%, it's time you say goodbye to shaving and waxing and try laser hair removal. 
What Is Laser Hair Removal?
Advanced laser hair removal is a non-invasive treatment that uses controlled and calibrated light energy to destroy or damage hair follicles permanently and reduce their regrowth significantly. 
How Does It Work?
There's a unique pigment present in your hair follicle called melanin. Laser targets and heats up melanin, which then ultimately results in the destruction of your hair follicles.  
The treatment can be performed almost anywhere on the body including the face, legs, arms, underarms, and bikini line. 
What To Expect From The Procedure
Although laser hair removal is a simple procedure and requires little to no preparation, here are a few things that you need to know:
Before The Procedure
We usually begin with an initial consultation where we help you determine whether or not laser hair removal is for you.  Here, we will talk about your medical history, any underlying conditions, your skin type, skin tone, and your expectations from the treatment. 
Avoid direct sun exposure, tanning beds, and self-tanning lotions for at least 2 weeks prior to your treatment.
Avoid waxing or plucking your hair right before your treatment. On the other hand, we do recommend shaving 24 to 48 hours before, as it can help laser target the pigment in your hair follicles effectively. 
Refrain from putting on any makeup or other skincare products before going in for your laser treatment. 
During The Procedure
We will begin by prepping and cleansing the area of concern.
Next we will gently move the hand piece over the treatment site, emitting focused laser waves and destroying the hair follicles in their path. 
Although the treatment is safe and virtually painless, some people might experience mild discomfort (a feeling similar to the snapping of a rubber band against your skin) that usually subsides as soon as the treatment is complete.
Laser hair removal treatments are quick and can be completed between 5-45 minutes depending on the area being treated. For example, smaller areas like the upper lips will only take a few minutes, while larger areas such as your legs can take up to 45 minutes. 

After The Procedure
The number of laser treatments required to achieve optimal results can vary depending on your hair growth and the area being treated. Typically, it takes 6 to 12 sessions spaced 4 to 8 weeks apart to get hair free and smoother skin. 
Unlike traditional hair removal treatments, the regrowth is usually fine and sparse, if any.
It is important to remember that a laser treatment can increase the sensitivity of your skin temporarily, so here are a few tips to avoid any post-treatment complications: 
Avoid direct sun exposure or use a good sunscreen with a minimum of SPF 30 every time you head out. 

Avoid applying perfumes or deodorants directly onto the treated area as they can irritate the skin further. 

Apply a cool compress or an ice pack over the treated area to soothe any discomfort or mild swelling. 
In the right hands, advanced laser hair removal treatments can help you achieve hair-free, smoother skin in just a few sessions. Moreover, the laser treatments are safe and effective for all skin types and tones. However, the lasers used for hair removal are incredibly powerful, so you need highly-skilled providers to ensure your safety.
At Metro Med Spa, St. Louis, MO, our expert team is highly experienced and well-trained to perform every procedure with utmost care and consideration. They can help create a customized treatment plan that caters to your specific skin type, skin tone, hair growth and aesthetic goals. So, why wait?

Book a consultation now.