Seasons change and so should your skin care routine!
April showers bring May Flowers, but February snow doesn't give our skin a spring glow! Spring is a perfect time to hit the reset button for your skin, and there's no better treatment than a chemical peel to shed the winter blues and reveal bright, glowing skin! 
Why choose a  Chemical Peel this spring:
During a chemical peel one of our trained providers applies a chemical solution to exfoliate or even eliminate the top layer of the skin. As a result, dull, dead skin peels away and new fresh skin is left in its place. We offer a variety of peels and recommend doing a series of treatments to achieve the best results.
Chemical peels are used to improve a variety of skin concerns: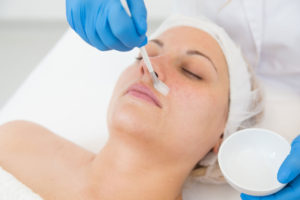 Acne and acne scars

Wrinkles and fine lines

Skin pigmentation irregularities

Skin that is rough and scaly

Scars of various kinds
Depending on what skin concern we're targeting, we might recommend combining a peel with other treatments like microneedling or photofacial.  There are various peel options combining different ingredients and strengths. Chemical peels can be applied  at various depths, ranging from light to deep. Deeper chemical peels produce more significant results but require a bit more down time for the client. Chemical peels aren't limited to the face, we use chemical peels for skin renewal anywhere on the neck, chest, back and other areas of the body. 
Why Chemicals Peels are one of our most popular Spring treatments…
Chemical Peels are safe for All Skin Types
You don't have to have a specific skin type or skin tone to benefit from a chemical peel. This treatment is appropriate for all skin types. 
Immediate Result
Once your peel process is complete (usually within a week) you can see the results of a chemical peel! With a low risk of negative side effects and pretty instantaneous healing, this rejuvenating skin tool can provide quick and long-lasting results.
No Downtime
A chemical peel requires limited down time. So even if you have a big event coming up like spring nuptials, a class homecoming, or a romantic dinner, you can get the treatment ahead of time and make an appearance with glowing, radiant skin.
Treats Winter Damage
A chemical peel is intended to remove dry, dead skin, soften fine lines, and lift hyperpigmentation from your skin. Begin your spring with a chemical peel to eliminate destruction from the previous winter months, or wait until after the warmer months to repair skin damaged by this year's hot tub days and picnics.
Learn more about how a Chemical Peel works…
A chemical peel regenerates fresh, supple skin by eliminating the build up of dead, dull skin cells, which accumulate over time. The depth and peel solution used are based on the concerns expressed by the client and the outcome we're trying to achieve as providers. 
Chemical peels can be customized, treating everything from fine lines and wrinkles to acne scars like what we are doing in St. Louis. Your provider can also adjust the complexity of the peel based on the client's concerns and aspirations.
Do you want to know if chemical peel can address your skin concerns? Call us now and get in touch with one of our highly-skilled experts.