We yearn for our youth's clear, perfect skin as we age. But unfortunately, unprotected sun exposure over time often results in freckles, sun damage, premature aging, skin discoloration, and other skin issues. 
IPL can be a great choice for individuals who want to improve the appearance of skin imperfections and achieve a more youthful and radiant complexion. IPL or intense pulsed light is a form of treatment that uses precise light energy to target pigmented areas of your skin.
Keep reading to learn more about IPL.
More About IPL Treatments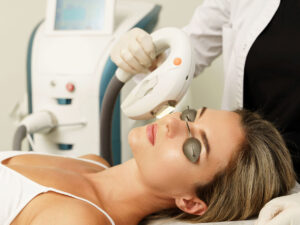 IPL is a non-invasive procedure that uses specific light wavelengths to address a variety of discolorations on different parts of your body, including the face, hands, neck, and chest, as well as brown spots, broken capillaries, and rosacea.
This treatment encourages the production of collagen and elastin, which could help minimize fine lines and the appearance of large pores. However, it's usually employed to help reverse sun damage brought on by years of UV exposure.
After the Treatment
You can immediately go back to your regular activities once your IPL procedure is complete. There is no downtime after this treatment, although providers advise avoiding direct or excessive sunlight exposure because it can compromise the results of IPL.
Additionally, minor swelling and redness are typical after the procedure and should subside within a few days. 
The treated area will begin to flake over the following few days. In order to avoid scarring, it's very important not to peel off the or pick at the skin and to always wear sun protection. 
Provided that your skin heals properly, the results should reveal a soft, smooth, and glowing complexion after the procedure.
Follow-Up Treatments
To come up with the right treatment plan, your provider will assess your skin and discuss your concerns and objectives during your initial consultation. 
Depending on the degree of sun damage, you may require a number of treatments to see results and this can vary from person to person. For best results, some providers typically advise 3 to 6 IPL sessions.
Am I A Good Candidate for IPL?
You have to consult with a provider to find out if IPL treatments are right for you. However, this treatment is probably for you if signs of aging and sun damage are your major concerns. However, the following patients should not consider this treatment if they:
Are pregnant or breastfeeding.

Have rashes in the target area.

Have an infection in the target area.

Have keloid scarring.

Have been diagnosed with melasma.
Sun exposure can damage the skin, leading to age spots, wrinkles and freckles. You should visit us here at Metro MedSpa and let our highly trained providers assess if you're a good candidate for an IPL treatment.  Call us now and schedule your appointment today!