Cosmetic injectables target a wide range of concerns such as fine lines, wrinkles, and volume loss. With all the different dermal fillers and injectables to choose from, it may feel overwhelming to know which is best for you.
This blog will give you an overview of injectables, what each type is used for, and which ones we offer at Metro Med Spa.
Cosmetic injectables are liquid or gel-based solutions that are injected into the skin for a specific treatment concern.
At Metro Med Spa, we narrowed down our injectable services into three categories based on their ingredients and treatment goals:
Wrinkle relaxers, like Botox™, Dysport™, Xeomin™, Jeaveau™ and Daxxify are neurotoxins that temporarily relax the muscles in the injection area.
This lessens the creasing of skin in the treated area and thus results in an improvement in the appearance of fine lines and wrinkles.
Dermal fillers are gel-like injectables used for treating areas with volume loss, making the skin appear fuller and plumper, and softening the appearance of deep static wrinkles.
The majority of dermal fillers are made from Hyaluronic Acid (a naturally-occurring substance in the body), including Juvederm™, Restylane™, Belotero™ and RHA.
Biostimulators (collagen stimulators)
Sculptra™ is an injectable in its own unique category of biostimulators.
It's a bio stimulatory filler made from poly-L-lactic acid (PLLA) that works by triggering the body's natural process of collagen production. Sculptra™ is great for boosting the skin's elasticity and hydration from within, smoothing wrinkles, and improving overall skin tone.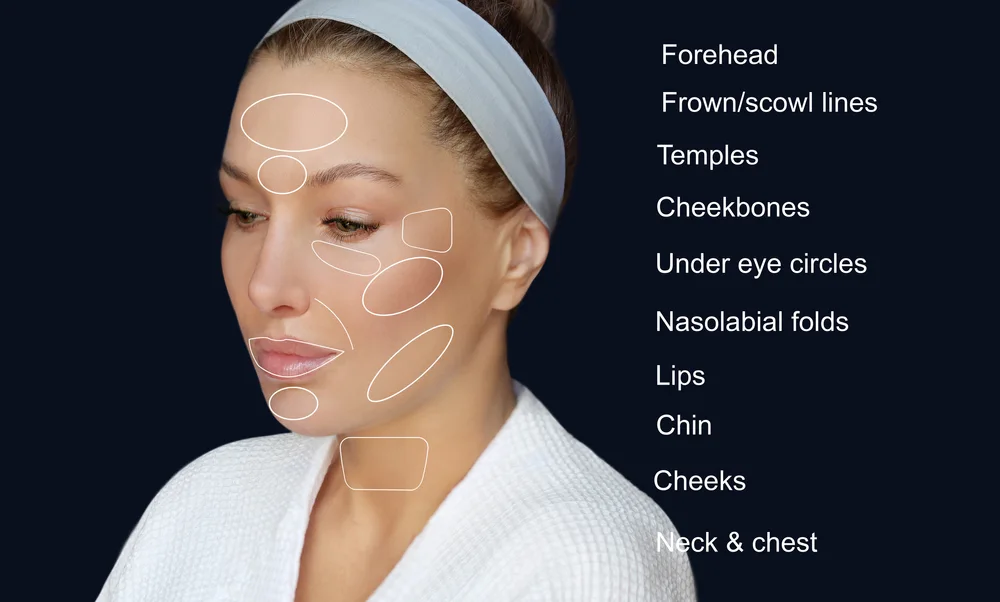 Preparing for Your Treatment
Unlike certain cosmetic procedures, there isn't much preparation you must do prior to getting injectable treatments.
Prior to your session, it is best to:
Avoid alcohol 24 hours before your treatment to reduce the chances of bleeding and bruising;
Discontinue blood thinning medication or supplements up to a week prior to your treatment to reduce the chance of bleeding and bruising
Show up to your appointment with a bare face, sans make-up and skincare products
What to Expect After the Treatment
Following your injectable treatment, you may notice some minor redness, swelling, and bruising at the injection site. This is completely normal and applying an ice pack can help with any discomfort.
Depending on which cosmetic injectable/s you choose, results can be seen almost immediately following your session.
The full results will be seen in the following days and usually last for months after treatment. Regular sessions are recommended with the frequency varying from person to person depending on how fast your body metabolizes the injectables.
Tox/Fillers at Metro Med Spa
Metro Med Spa offers everything from wrinkle relaxers to dermal fillers.
We know there are many different cosmetic injectables to choose from, so our goal is to keep you informed throughout the entire process. We also work closely with you to decide which injectables will work best for you and come up with a customized plan of action for your aesthetic treatment.
Our providers have helped countless clients in the St. Louis, MO area achieve their aesthetic and injectable goals, and we can do the same for you too!
Book your appointment with us today!
(314) 842-5600
https://themetromedspa.com/contact/